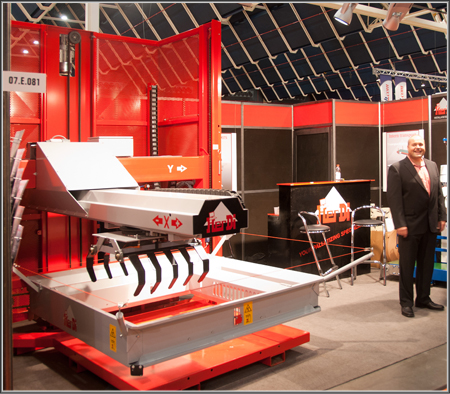 Macropak
Herdi was present on the macropak 2010 to show off the new P600 palletiser, this the improved model of the P500/P550. The machine has a completley new control system which offers a beter performance than the older models and is a lot more userfriendly with it's new touchscreen display.
The new palletiser (P600) is a compact machine which is easy move around the workspace with the help of a forklift.
The biggest improvements to the machine include the stacking speed and the user interface. The machine stacks 550 bags an hour and the the use of the touchscreen is easy and pleasant compared to the older version. The machine has a few pre-programmed stacking programs, it is also possible for the user to write their own stacking programs.
At Herdi we design and build the machines ourselves, for the client this means that if they ask for specific adjustments to the machine we are able to make those adjustments. Click here for more information about our machines.