Conveyors
Internal transport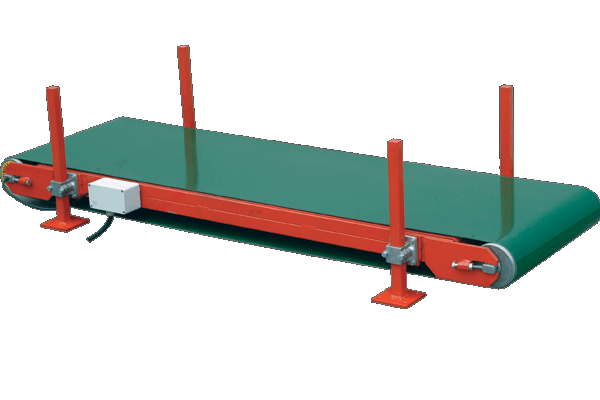 Herdi supplies made to measure belt conveyors which are compact thanks to the drum motors with which they are equipped.
The conveyors are robust and uncomplicated which means a long operational life can be expected
The Construction
The belt conveyors consist of a steel frame with a drum motor on one side with a
cylinder opposite. The most commonly used material for the belt is PVC, but other materials are availible to match the requirements of the customer. The support legs are height-adjustable for a fixed set-up or the can be fitted with spindle adjusters. With the simple addition of side rails, the conveyors can be adapted to accommodate bags which are transported in an upright position.
Control system
The controls are generally integrated into the palletiser control cabinet. a separate control unit or switch is of course available.
Unlimited sizes availible
As eacht belt conveyor is made to order, the choice of size is unlimited. Generally a belt width of 400 mm is sufficient for transporting bags. The compact construction offers the advantage that the minimum height of the belt is a mere 150 mm.
This means that the product can easily be fed into the Herdi palletiser.